Transport infrastructure as bridges can be affected during their life cycle by external agents, such as weather conditions or activities in their surroundings. Traditionally, concrete structures have been designed and calculated only to withstand the expected loads in their operation, and frequently without considering durability factors and/or change of conditions, especially on the execution phase. The problems of endurance affect to different kinds of structures and when they come up, the infrastructure stops being functional, efficient and they will inevitably not fulfill their expected life. Additionally, these problems cause high costs to owners and investors as affected areas must be repaired, damaged items shall be replaced and derived costs from periodic renovations and maintenance increase dramatically. For these reasons and to guarantee the stability of any infrastructure, it is essential to observe its behavior due to any change in their operating conditions that may occur, such us the construction of buildings or other infrastructure close to them. Nowadays, tools such as vibration monitoring during the life cycle of an infrastructure have become an important key for the detection and control of possible damages. In this regard, as example and practical case of the utility of these systems, at the beginning of the year, three MR3000C devices, from Bartec Syscom, company represented by TSI in Spain, were installed for the vibration monitoring of a viaduct on the A7 freeway, near to Vila Puca, north of Portugal. The purpose of this monitoring was the detection of incipient structural damage during the construction of a tunnel under the viaduct. This would allow managers to stop any activity that may be a risk for the structural stability of the viaduct. In addition, these systems guarantee the safety of the users and the staff in charge of carrying out the works in the facilities.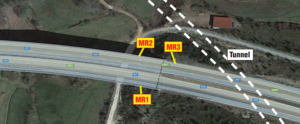 The Bartec Syscom equipment used for this monitoring was an MR3000C, which has been designed for seismic and structural vibration monitoring. This equipment is made up of an internal triaxial velocity sensor and a 3G module allowing the connection to internet and the access to PDF reports. The report obtained compares measurements with the applicable regulations in each country. Besides, these devices can be installed on vertical positions, which makes it the best solution for this type of construction. Other key aspect in these measurements is the location of the equipment. The devices must be located near the most critical areas, and those affected for external agents.

These types of tools are a big help to carry out a correct control of the structural behavior of transport infrastructures throughout its life cycle. This makes it easier for departments responsible for safety to obtain essential information to make decisions in due time that help to avoid any possible damages and catastrophes in buildings.