Instrumentation | Vibro-Meter®
Leaders in Engineering Solutions

MEGGITT SENSING SYSTEMS designs and manufactures complete condition monitoring and vibration monitoring and measurement solutions. Our comprehensive, high-quality range of transducers, sensors, cabling, electronics, software and associated hardware gives you total solutions for monitoring and protecting your critical machines and processes. Our Vibro-Meter® products include vibration sensors, dynamic pressure sensors, proximity sensors, air-gap sensors, expansion probes, ice-detection sensors, VM600 rack based systems, VibroSmart® and VibroSight® systems and more. Vibro-Meter® is a Meggitt's company focused on the production of sensors and monitoring systems (hardware/software) for rotating machinery applications. TSI is Vibro-Meter's sales representative in Spain since 1992 and Ecuador since 2012.
Overspeed detection system
VM600 MK2 – RACK SYSTEMACK
Machinery monitoring and protection system
The VM600Mk2 is the next generation rack-based system for advanced machine protection and condition monitoring, specially designed for critical rotating machinery.
The Mk2 system is an evolution of the successful VM600 system and the result of more than 65 years of experience in the sector. With more than 8,000 systems installed worldwide, the VM600 system has become a standard component in power generation, oil and gas, and other industrial applications.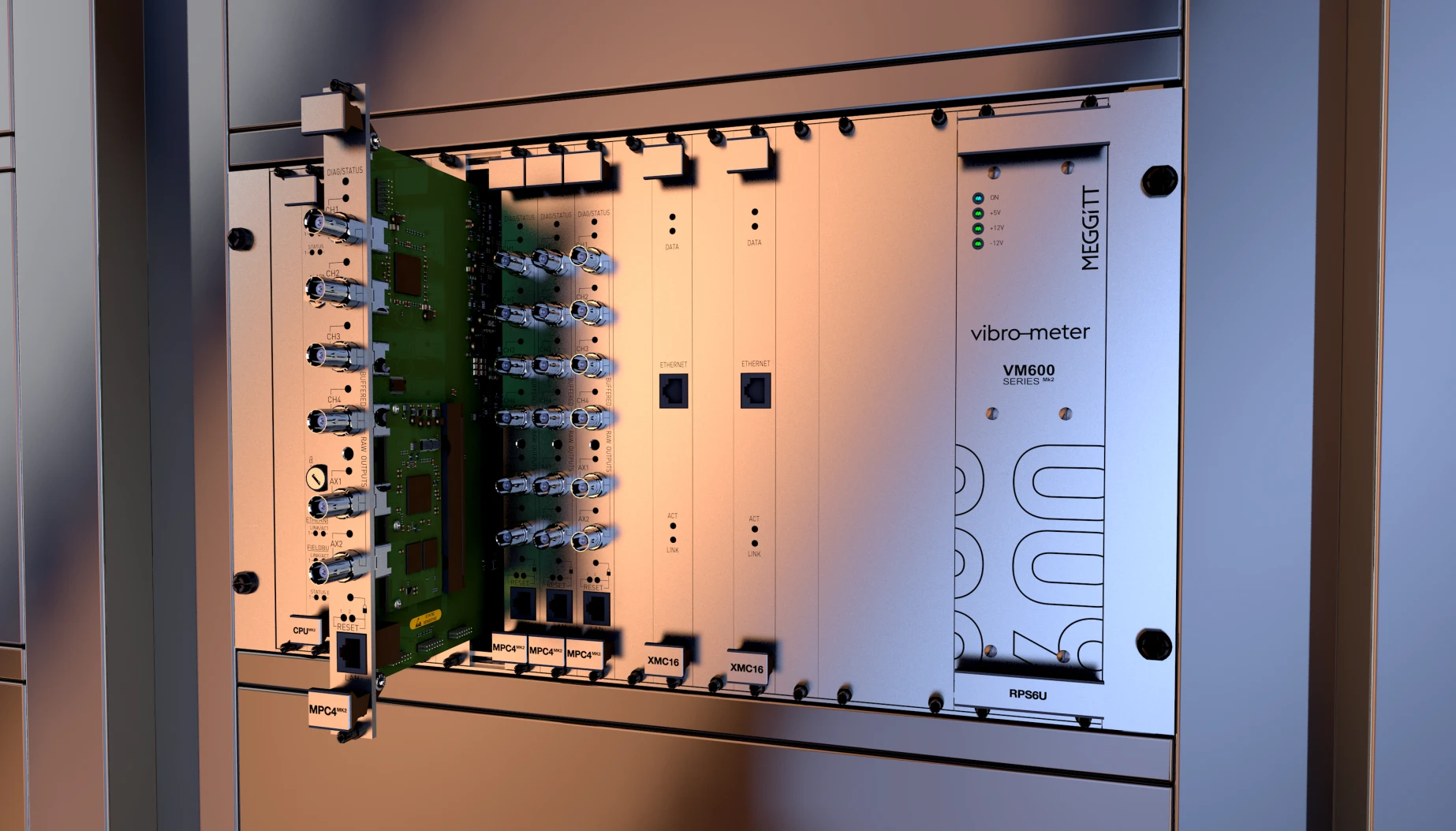 The modular design of the VM600 mk2 makes the system easily adaptable to monitoring, surveillance and mixed system configurations.
MACHINERY PROTECTION MODULES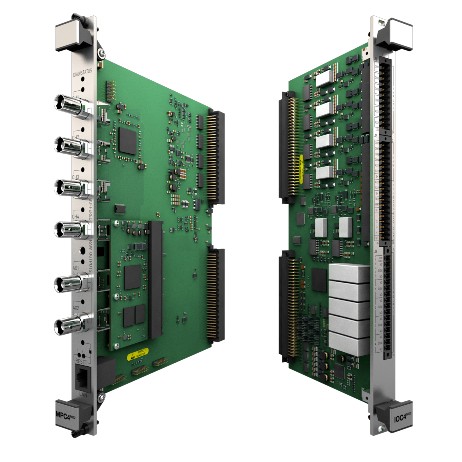 + Description
The MPC4Mk2 + IOC4Mk2 Machinery Protection Module provides
4 dynamic channels and 2 auxiliary channels for machinery protection and condition monitoring.
4 user configurable relays for alarms and 1 common circuit fault relay.
Diagnostic (BIST) with system-wide safety line to drive all associated protection system relays and analog outputs to a safe state.
Available modules
MPC4Mk2 + IOC4Mk2
MPC4Mk2 + IOC4Mk2 with CMS capability
MPC4Mk2 + IOC4Mk2 SIL 2 (in progress)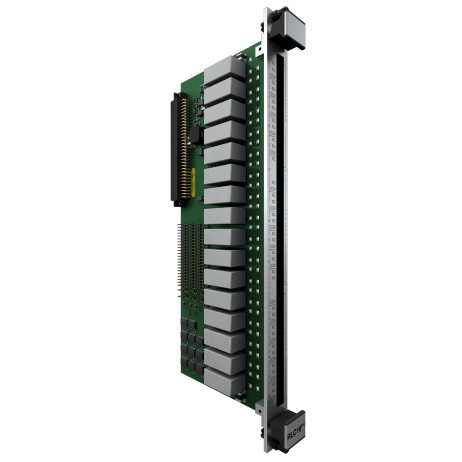 + Description
The RLC16Mk2 Machinery Protection Relay provides 16 user-configurable and diagnostic (BIST) relays with system-wide safety line to bring all relays and analog outputs in the system to a safe state.
module available
VIBRATION STATE MONITORING MODULE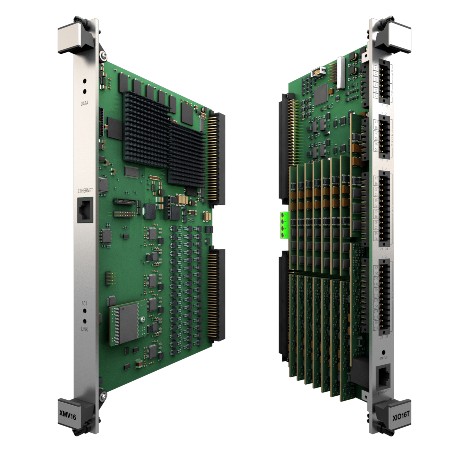 + Description
The VM600 Mk2 / VM600 XMV16 + XIO16T vibration condition monitoring module provides 16 dynamic channels and 4 tachometers (velocity) channels, all of which are independently configurable.
Available modules
Vibration monitoring module XMV16 + XIO16T
RACK CONTROLLER AND COMMUNICATIONS INTERFACE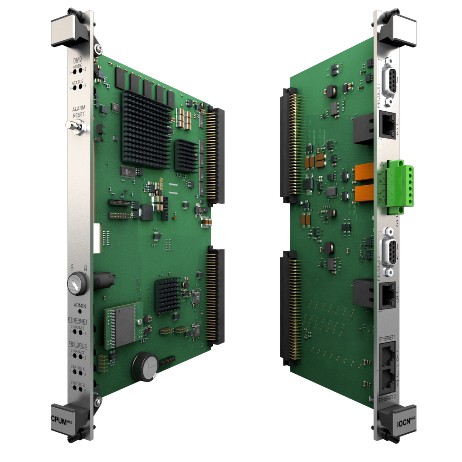 + Description
The system controller and data communication gateway for VM600Mk2 systems.
Main features
Industry standard fieldbus communication interfaces: Modbus TCP and PROFIBUS DP.
Mathematical processing of the data that is shared through the field bus.
System status (health) information is available via Fieldbus.
Alarm Reset (AR) button on the front panel.
VM600 rack security (CPUMMk2) with a removable key.
Available modules
CPUMMk2 + IOCNMk2 module with mathematical processing of fieldbus data and support for Modbus TCP and PROFIBUS DP.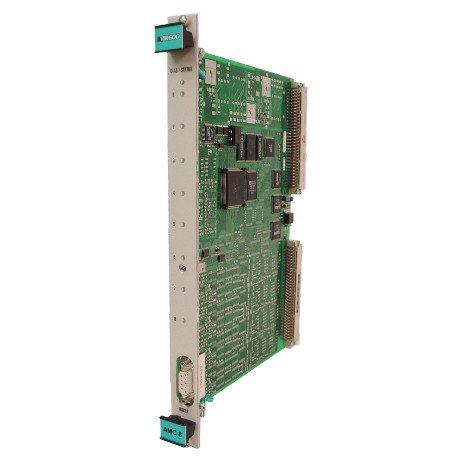 + Description
8 channels of temperature and process monitoring for VM600 systems.
8 software-configurable function channels: thermocouple (TC), resistance temperature detector (RTD), current and voltage inputs.
Analog signal inputs in the range of 0 to 25 mA and 0 to 10 V on any channel.
Sensor Cold Junction Compensation (CJC) processing on two selectable channels.
Current outputs (optionally, voltage outputs).
4 relay outputs attributable to alarm signals under software control.
SURVEILLANCE AND PROTECTION SYSTEMS VM600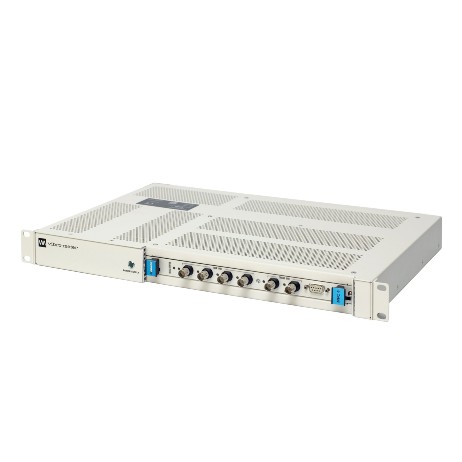 + Description
This rack is especially suitable for industrial environments, where equipment must be permanently installed in cabinets or 19″ panels. Each rack is a standard 1U height and provides mounting space for a VM 600 series card. The rack has an integrated base plate that ensures electrical interconnection between the power supply unit, signal processing card, acquisition,  input/output card, and relay card.
SURVEILLANCE AND PROTECTION SYSTEMS VM600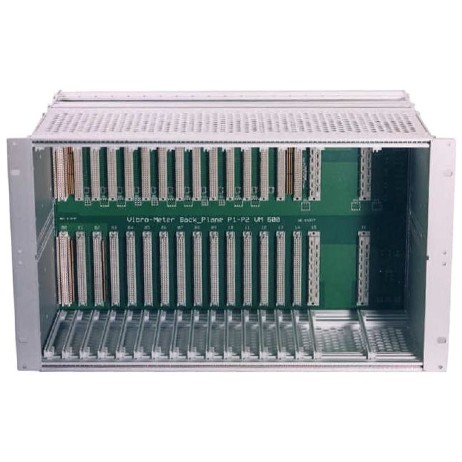 + Description
19″ system rack.
Robust aluminum construction. VM600 System Racks are used to house the hardware of the VM600 series of Machine Protection Systems and Condition Monitoring Systems. Backplane that supports the VME bus, raw signal, tachometer, and open collector (OC) buses of the VM600 system, and power supply distribution. Power supply check relay. One or two RPS6U power supplies can be installed in a VM600 system rack redundantly or non-redundantly.
Temperature range: -25ºC to 65ºC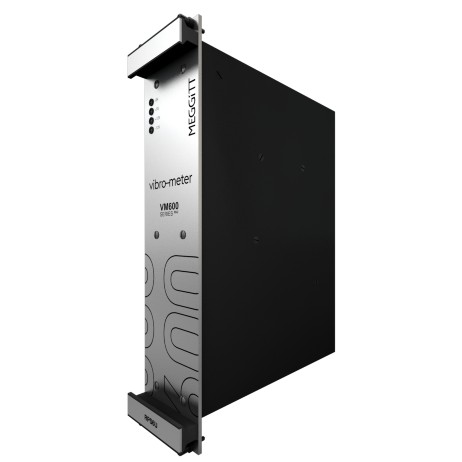 + Description
Rack power supplies for VM600Mk2/ VM600 systems
Main features
AC input version (115/230 VAC or 220 VDC) and DC input versions (24 VDC and 110 VDC).
High power, high performance, and high efficiency design with status indicator LEDs (IN, +5V, +12V, and -12V).
Protection against overvoltage, short circuits,s and overload.
An RPS6U rack power supply powers a full rack of modules (cards).
Two RPS6U rack power supplies allow redundancy of rack power supplies.
SURVEILLANCE AND PROTECTION SYSTEMS VM600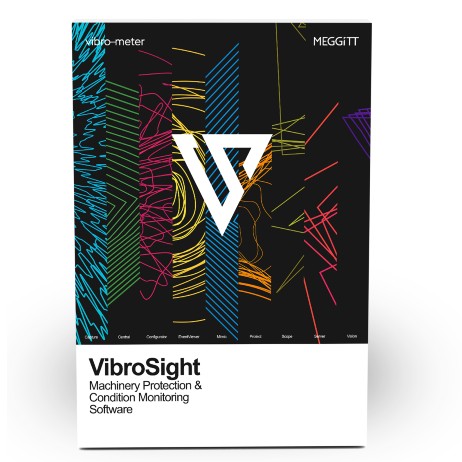 + Description
Control and analysis of machine vibrations.
Monitoring and analysis of the air gap and magnetic flux.
Control and analysis of dynamic combustion.
Bearing analysis.
Digitization and recording of long duration continuous waveforms.
 
VibroSight Vision chart catalog includes the following chart types as standard:

Static graphs: Bar graph, Bode, Correlation, Polar, Center line of the axis, Table, Trend.
Dynamic Graphs: Orbit, Spectrogram, Full Spectrum, Waterfall/Waterfall, Waterfall/Full Waterfall, Waveform.
It supports the following external interfaces: MODBUS, OPC and/or PROFIBUS.
VIBROSMART® -DISTRIBUTED SYSTEM
Machinery monitoring and protection system
VibroSmart, from the vibro-meter® product line, enables operators to cost-effectively monitor and protect the smallest critical machinery without interfering with its performance.
VibroSmart is a family of networkable devices developed to implement Machine Guarding System (MPS) and/or Condition Monitoring System (CMS) solutions with low to medium density of measurement channels that can be installed wherever require.
Reduced Installation Costs – Because VibroSmart devices mount directly to or near the machine, operators save up to 30% on installation and wiring costs. Using standard Ethernet cables helps simplify installation.
Versatile Solution – The VibroSmart VSV301 can process most signal types: vibration, displacement, and dynamic pressure. It can be configured to offer unique combinations of MPS and/or CMS functionality.
As simple or as elaborate as needed – VibroSmart's modular structure is highly flexible and scalable. A single VibroSmart VSV301 can function as a stand-alone system or can be combined with other VibroSmart devices to provide a network monitoring system.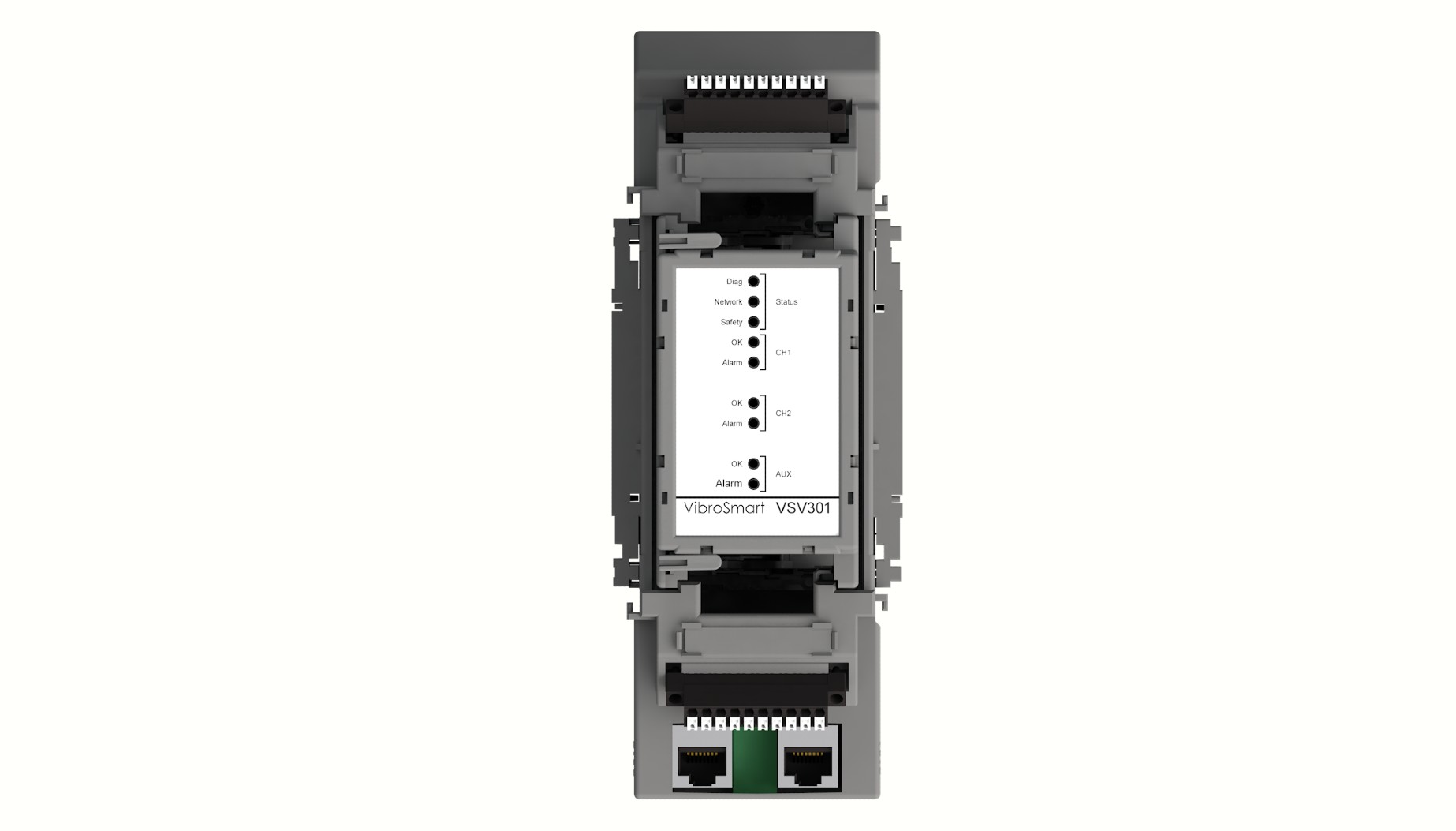 + Description
System of modular and scalable products designed for machinery protection and condition monitoring applications for power generation turbines, oil and gas applications, and auxiliary balance of plant equipment.
It can be mounted directly to machinery, reducing the need for costly wiring. Performs data acquisition and all signal processing (filtering, analog-to-digital conversion, time and frequency domain processing, and resampling) necessary to produce processed outputs and extracted data for physical output and data presentation in VibroSight and VibroSight Scope. This includes spectral band extractions, advanced FFT analysis, trend and limit checks (alarm and sensor OK), and run-up/rundown acquisition. 2 individually configurable dynamic input channels with up to 19 kHz bandwidth and Up to 20 configurable processed outputs per channel.
Spectrum analyzer (FFT) up to 1600 lines every 1 s Up to 4 alarms per processed output, with hysteresis and delay. Redundant communications and redundant power inputs to improve availability Analog outputs: 2 local outputs configurable as 4-20 mA or ±5 V 2 local SPDT relays.
We find the solution for your rotating machinery needs.
Overspeed detection system
SpeedSys300 ODS301 is Vibro-meter's new state-of-the-art overspeed detection and protection system with a SIL 3 rating. The system is designed with a versatile modular architecture and features a low-impact fit making it suitable for any speed application. criticism.
To respond to an increasingly safety-oriented market, they have continually improved their portfolio and developed new products to meet the most stringent safety standards, such as SIL and API 670. Since both measurements are similar in nature – dynamic signals that require advanced real-time signal processing – have taken their extensive knowledge and experience from the world of vibrations and applied it to overspeed detection and protection.