The new Sailing Tall Ship for the Republic of Peru, named "Union", with 115.7 meters in overall length and capacity for 257 crew will become the largest Sailing ship in the world.
The prestigious Spanish shipbuilding company CYPSA, based in Vigo, was the last year the winner of the international competition organized
by the Navy of Peru to design the new vessel.
The construction of the "Union" vessel is being developed in SIMA shipyards in the Peruvian city of Callao. His delivery is scheduled for 2015.
TSI as specialized Company in Dynamic and Acoustic vessel is going to carry out the Vibration and Noise Prediction calculations for this vessel.
These simulation studies: Vibration and noise Prediction calculations have the objective of incorporate, in the early stages of thedesign, structural modifications required and the specific acoustic insulation that is necessary to ensure compliance limits vibration and noise contractually required by the Specification.
For the vibration study 3D finite element model with all the mass and stiffness characteristics of the vessel were carried out to calculate the expected vibration levels at different locations of the vessel. The comparison of these values ​​with the limits de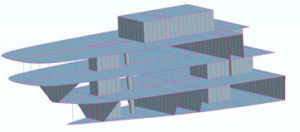 fined in the specification helps to define structural modifications.
Similarly, in the case of the noise prediction calculation a SEA- Statistical Analysis- Energy model, was carried out with the main sound sources and the original insulation. Expected noise levels were estimated in the different compartments of the vessel: passenger spaces, crew, labour and machinery. A comparison of these estimated values with the limits for each space helps to define the acoustic modifications.
With this type of initiatives, CYPSA stands at the forefront of the engineers to offer to the Shipowners, national and international, basic and detailed designs with high quality, even with the assistance of TSI, the vessel is in compliance with the strictest requirements for vibration and noise for vessels.