On Wednesday, April 26th, Técnicas y Servicios de Ingeniería participated in Iberquimia, the II Congress of "Industria Química", whose theme was based in Industry 4.0 and its implementation and integration in the current structures, this event took place in Madrid, where some of the main companies of the Spanish Industry exposed their novelty.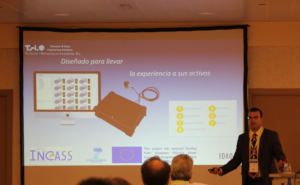 TSI spoke about its advances in Applications of Condition Monitoring Systems and issues like the advantages of have an on-line monitoring system in plant.
In addition TSI show IDAO its new Multitechnology Platform of Predictive Parameter of Machinery, where they explained all the advantages of have an expert equipment with capability to realizes a pre-diagnosis and combines different technologies such as vibrations, ultrasound, temperature, thermography and current, allowing the storage of this data in an orderly and centralized way in an equipment that management does not require the qualification of the plant technicians.